The power, passion, and precision of Gaetano's Nicolosi's drumming has been a key element of IronHorse since the band was born. Gaetano (affectionately referred to as The Italian Stallion) began playing with Ronnie Keel in his native Sicily in 1999, performing for Italian audiences and the men and women of the U.S. Armed Forces.
Prior to that experience, he had already established himself as one of his country's premier talents - as a recording artist for Sony, a teacher at the prestigious Academy Of Modern Music, and a live performer in some of Sicily's top bands.
Since coming to America as the drummer in IronHorse, Gaetano has established himself as a world-class talent, earning major endorsements from Taye Drums, Vic Firth Drum Sticks, Istanbul Agop Cymbals, Attack Drum Heads, and Ultimate Support Systems. In addition to sharing his skills and promoting his endorsements by conducting drum clinics in major music stores, he is currently preparing to publish a series of instructional books and relentlessly continues to maintain his role as the foundation of IronHorse.
Gaetano was born June 6th, 1975, in Catania, Sicily, Italy, and grew up in nearby Ramacca. He currently calls "The Road" his home, and lives in Delaware, Ohio, when not touring.
Previous bands (all from Italy) include:
Amagra, 095, Acquamenta, Black Fusion, Egomonia
Amagra
"A Chiazza" (1997 - Sony Records)
095
"Cosa vuoi da me" & "Il Sogno" (1998 - Demo)
Ron Keel/Gaetano Nicolosi/Lee Wilkerson
"The Sicilian Sessions: 'In My Wildest Dreams', 'The Show Must Go On', & 'Redneck Rock N Roll' " (1999 - Demo)
Ron Keel/Gaetano Nicolosi/Lee Wilkerson
"The Sicilian Sessions: 'In My Wildest Dreams', 'The Show Must Go On', & 'Redneck Rock N Roll' " (1999 - Demo)
IronHorse
(2001 - Melodic Mayhem Records)
Various Artists/IronHorse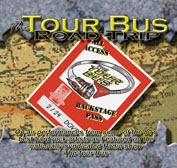 (2001 - Impulse Music)
IronHorse performs an acoustic version of the KEEL classic "Tears Of Fire" for this all-star compilation from the popular syndicated radio show
Various Artists/IronHorse
"Warmth In The Wilderness - A Tribute To Jason Becker" (2001 - Lion Music)
Gear: (include all details – drum sizes, cymbal setup, etc.)
I use exclusively Taye Drums, Istanbul Agop and Alchemy Cymbals, Vic Firth Drumsticks and accessories, Attack Drumheads and Ultimate Support Boom stand and accessories….
Taye Drums Studio Maple Series Classic Walnut color lacquer finish.
I use the Gaetano Nicolosi signature Vic Firth Rock hickory drumstick, Vic firth drumstick bag and in studio the Vic Firth Stereo isolation Headphone.
For live performances I use on all the toms Attack Drumheads 1 ply Thin clear on the bottom and 2 ply Medium/Thin clear on the top. For the snare I use the 2 ply medium coated.
On the bass drum I use 1 ply coated no overtone.
For studio sessions I use on top of toms and snare thinner drumheads, on all the toms 1 ply medium coated and on snare 2 ply medium/thin. The rest of it is same that I use for live performances.
Five all-time favorite albums: Bon Jovi "Sleeper Wet Wet ", Cick Corea Elektric Band "Beneath The Mask", Styx and REO Speed Wagon "Arch Allies Live", WhiteSnake "Slip Of The Tongue", Dream Theater "Images And Words".
Five all-time favorite bands/musical acts: Bon Jovi, WhiteSnake, Styx, , Chick Corea Elektric band and Dream Theater.
Five all-time favorite movies: "The God Father part 1,2 and 3", "Spinal Tap","15 Minutes", "Rock Star", "The Italian Job".
Best ever time on stage: every show with IronHorse in particular opening for Dubbie Brothers.
Favorite IronHorse songs: "Desert Rain", "American Thunder", "Hunted Saloon", "One Hell Of A Ride", "Run For The Border", "Dancing With The Devil" and "Sings Of Life".
Favorite Food: all sea food, pizza, arancini and all the Italian food.
Cocktail(s) of choice: water.
Hobbies/interests: play Checkers, play pool, watch movies, listen to music, play drums all day long.