Birthday: July 27
Birthplace: Portland, Oregon
Hometown(s): I grew up in Gladstone, Oregon and went to high school there.
I did my 4-year stint in the Navy, and then moved to Arizona, where I made my home in Phoenix for 12 years. That is also where I met Ronnie Keel and the fun began!!
I now call London, Ohio, my home and am very happy to do so. Go Bucks!!!
Five Favorite All-Time Albums:
Van Halen - Van Halen
Travis Tritt - N More Looking Over My Shoulder
Chris Cagle - Chris Cagle
AC/DC - Back In Black
Elvis - anything he ever did.
I consider a good album one that I can listen to every song from beginning to end and all of them are good!!!
Five All-Time Favorite Bands/Musical Acts:
Van Halen
Judas Priest
Elvis
Garth Brooks
Hank Williams Jr.
Five All-Time Favorite Movies:
The Hunt For Red October
The Matrix
Star Trek II - The Wrath Of Kahn
Interview With A Vampire
Tombstone
Best Ever Time On Stage:
Country Thunder 1999 - Queen Creek, Arizona - opening for Reba McEntire, Brooks & Dunn, and many more of the biggest stars in the business in front of 70,000 people!
Favorite IronHorse Song: Now that's just not a fair question. I don't have a favorite, they just sound like good music to me. Just like I said, you can listen from beginning to end and love them all.
Favorite Food:
What's not to like? I like anything that doesn't come out of the ocean. I love Mexican, Italian, good old American----- I just love food.
Cocktail(s) Of Choice: BEEEEEEEERRRRR and BEEEEEEAAAAAMMM!! Give me a good beer and a shot of JIM BEAM!!!
Hobbies/Interests:
Bowling, swimming, boating, cooking outside, parties with family and friends, movies
Previous Bands:
Empyre
NRG
Choice
Syngiin
SX
Box of Cherries
The Einsteins
The Roadhouse Rattlers
Harry and the Gilla Monsters
IronHorse - "BRING IT ON"
(2004 - Compendia/VTone Records)
IronHorse

(2001 - Melodic Mayhem Records)
Various Artists/IronHorse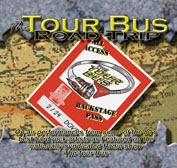 (2001 - Impulse Music)
IronHorse performs an acoustic version of the KEEL classic "Tears Of Fire" for this all-star compilation from the popular syndicated radio show
Various Artists/IronHorse
"Warmth In The Wilderness - A Tribute To Jason Becker" (2001 - Lion Music)
SX - 4 song demo
The Einsteins - D-uh
The Einsteins - Hippy Crack
Harry Luge - Harry & The Gila Monsters
Instruments:
Ibanez Erodine 5 String basses
Amplification:
I use a Peavey Megabass which gives me three Eq's to fine tune my sound. Speakers: Peavey 4/12 cabinet (very heavy)
Picks:
My fingers
Straps, Guitar Stands, Mic Stands:

Ultimate Support Systems
Strings:
Dean Markley long scale 130-45
stage clothing by: KC designs inc.